"Tuning the World to Aloha!"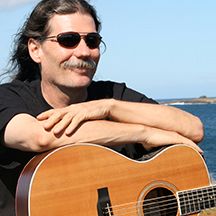 Doug McMaster
"Keeper of the Music"
Doug has played slack key guitar since he was six years old.  He wanted a guitar and his dad helped him mail order a Roy Rogers & Trigger guitar mail order.  When the guitar arrived, his dad's friend was at the house.  He picked up the guitar and tuned it in a slack key tuning.  He handed it to Doug and said "See what you can do with this!" He has not stopped since.
He's played many styles of guitar throughout the years and always had acoustic guitar tuned in slack key tunings.  The guidance of Hawaiian elders led him to dedicate himself to only traditional slack key 35 years ago. 
Raymond Kane made Doug understand that "Slack key is what his hand was made for.", a gentle yet firm way of telling him that he was given a  special gift this lifetime and he has a kuleana (responsibility) to ho'omau (continue the tradition). 
Doug is a prolific composer whose songs come from the heart, gifts from special places, experiences, and beings.  In the old Hawaiian way, music is given and received... no conscious composing.

Sandy McMaster
"Keeper of the Stories"
Sandy is a musician, storyteller, writer, and artist.  She fell in love with Doug and his music over 40 years ago.   He bought her a guitar and told her he would teach her how to play.  And they have been making music together ever since.
One day in a music store on Oahu, she heard beautiful finger style music coming from behind her.  She turned around and it was a young man playing fingerstyle on an ukulele. He said his name was Jake.  Could have it been Jake Shimabukuro?  The age was right.  No matter, the beautiful playing inspired her to get her first ukulele. 
She didn't like the way it sounded played with Doug's slack key tunings... didn't blend the way she had heard from Hawaiian elders. She found slack key tunings on the ukulele that were perfect to blend with slack key guitar tunings.
Sandy founded Aloha Plenty productions and runs the business.  She worked full time for 40 years in business management, IT, strategic planning, and marketing to support staying true to their passion and dedication to the traditional slack key music.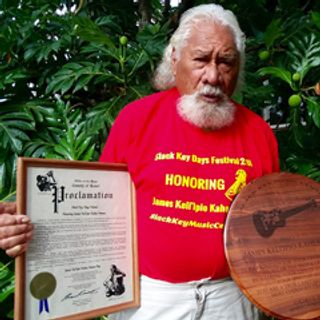 James Keli'ipio Kahea Mawae
Traditional Hawaiian Slack Key Caretaker of Molokai
Born 1936 at the homestead on Molokai, Keli'i learned slack key from his grandmother Lucy Kapika Mahina Panaewa and other elders in his family.  His ancestry traces back to Maui and Kauai.
On Molokai, we were taken under the wing of James Keli'ipio Kahea Mawae (last living traditional slack key caretaker of Molokai). In 1999 Keli'i told Doug, "You and I are the same, We both play old style.  There's only a handful of people still playing old style. Up to you to make sure it lives on." 
I asked Keli'i how we could do that.  Keli'i said, "As long as people keep hearing the songs and the stories, they will carry the music in their hearts.  It will go all over the world.  It will survive." 
How did he know? When we arrived back on Kauai, we started the McMaster Slack Key Concert Series on a regular weekly schedule.  Keli'i was right. It has touched hearts and been carried all around the world. Through quantum entanglement, the slack key frequencies of Aloha have spread all around the world.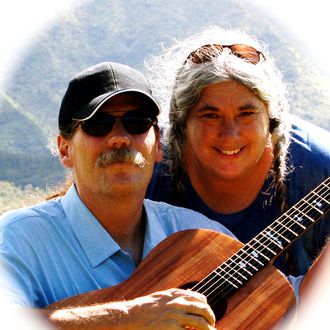 What's Ahead?
New recordings and videos, Podcasts, Online Concerts, Player Tips, and more.
Launch  Aloha Plenty Online
A Tour? Visit our fans and experience the Aloha of their hometowns!  Woo hoo! Anyone want to host a house concert?
Hawaii Magazine Readers' Choice -       #1 BEST LIVE SHOW (2014-2020)
TripAdvisor Certificates of Excellence (2014-2018)
Official Best / Hawaii - Slack Key 2020    Official Best / Hawaii - Slack Key 2012
HMA Best Slack Key CD 2007 & 2010
Multiple Na Hoku Hanohano Nominations